Background InformationEdit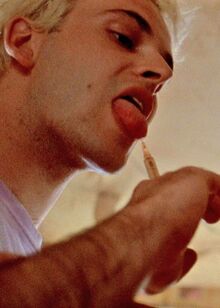 Sick Boy is one of the main group. He is an entreprenure of sorts. He is strong willed examples of this are quitting heroin at the same time as Rent Boy [1] just to prove its easy for him. He is shown to be a big shot with the ladies. Although never Specified its hinted to that Sick boy is the father to Allisons child that dies from neglect. He is a James Bond enthusiast and often talks about it in great detail.
Sick Boy Timeline Edit
He first appears in the beginning of the film when he is talking about James bond and is injecting Allison, then to be injected himself by the Mother Superior.
He then goes on to quit heroin.
Then he "loses something" when Allisons baby dies, and then becomes a massive thief.
He then goes a bit quiet.
He is said to have become a local pimp and drugs pusher.
He then comes up with a massive Skag deal.
He then gets his share of the money from the skag deal robbed by Rent Boy [2].